Deer Park Makes Recycling Easy
What if in less than five minutes a day you could reduce pollution, conserve resources, and save landfill space? You can if you recycle. When you recycle, the pop cans, milk jugs, and newspapers are used to make new products, reducing the need to mine for metals, drill for oil, or log for timber. ALSO, the City receives a Recycling Incentive reimbursement from the Hamilton County Recycling and Solid Waste Management District based on the percentage of recyclables diverted from the landfill. Our diversion rate for 2019 was 12.3 %. The more we recycle, the more we get back. And Deer Park makes recycling easy!
How to Recycle
How do you start? Residents may call Rumpke at 513-742-2900 to get your free recycle cart (one per household, single and 2 family units). You may also call the City of Deer Park at 513-794-8860 for assistance in getting a (red) recycling bin or (dark green) recycle cart (on wheels).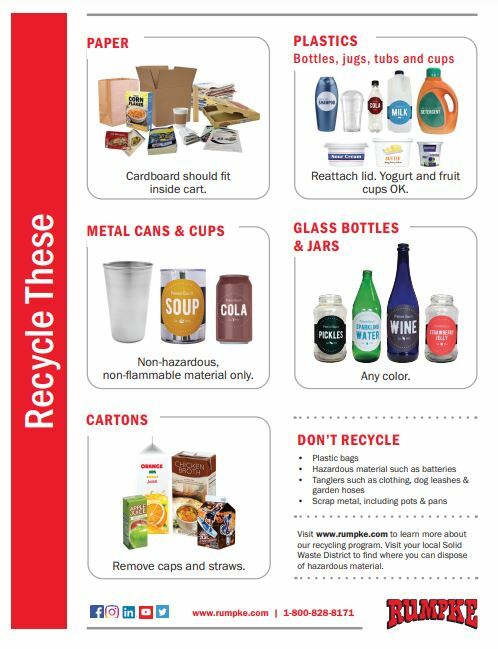 What to Recycle
Glass bottles and jars
Cans – All food related metal cans can go in your bin. Rinse out can and remove lids.
Bottles and Jugs
Paper – Break down cardboard items.
Cartons
Plastics - Generally #1, #2, as well as butter, yogurt, & similar containers. No #6. Please view flyer on this page or in link below. Some plastic cups now accepted ! For info on acceptable cups --> View FAQ/flyer here.
Do not include batteries or plastic bags in your curbside or drop off recycling. All containers must be empty. Please place materials into recycling bins loose (not in plastic bags). View flyer.
Have Household Hazardous Waste? Call the Hamilton County Recycling and Solid Waste District for disposal options at 946-7766 or visit their website.
Typical household hazardous products include:
Pesticides
Automotive fluids (i.e. gasoline, motor oil, antifreeze)
Home improvement products (varnish, stain, paint thinner, paint stripper, adhesives)
Cleaning products (drain cleaner, ammonia, bleach)
Lawn and pool chemicals
You CANNOT RECYCLE these in your bin/cart:
food film/plastic food containers (i.e., single serve frozen meals)
plastic hangers
lotion tubes
deli containers
storage containers
cat litter buckets or containers
Styrofoam©
drinking glasses
plastic wrap and packaging*
plastic bags*
*Plastic bags & packaging can be recycled at Target and Wal-Mart-click here for locations.
baking dishes
dinnerware
window glass
broken glass
light bulbs, compact fluorescent
regular fluorescent lights
metal hangers
scrap metal
aluminum foil
non-food related metal
non-drink related metal
empty paint containers
bound books**
paper plates
napkins
paper soiled with food
foil-coated paper
wax-coated paper
photographs
wax paper
**For book recyclers, click here or call the Recycling Hotline at 946-7766.
Rumpke Expanded Recyclables List Announcement
Rumpke is committed to expanding our recycling efforts and reducing the amount of material entering our landfills.
Since Rumpke Re-cycling's inception in 1989, they have significantly grown the residential program and steadily increased the amount and type of materials that are accepted. Rumpke is pleased to announce that effective November 1, 2009 they can now accept all plastic bottles and jugs (regardless of plastic number) and clean pizza boxes.
Rumpke is making a multi-million dollar investment to incorporate the most advanced sorting technology available at the Material Recovery Facility. This upgrade will allow improvements to efficiency and acceptance of these new materials.
We hope you share our excitement in this opportunity to recycle more. Click here for April 2021 flyer of recyclables.